There are nearly 400,000 active underwater divers in France. With this fact in mind, the Tourist Authority of the Island of Reunion (IRT) has once again opted to take part in the Salon de la Plongée Diving Show in 2016 to help diving enthusiasts to discover the island's exceptional marine biodiversity. This year, the theme of the show is "Hands off the sea !" with an approach that will set the tone for the event, which is now in its eighteenth year.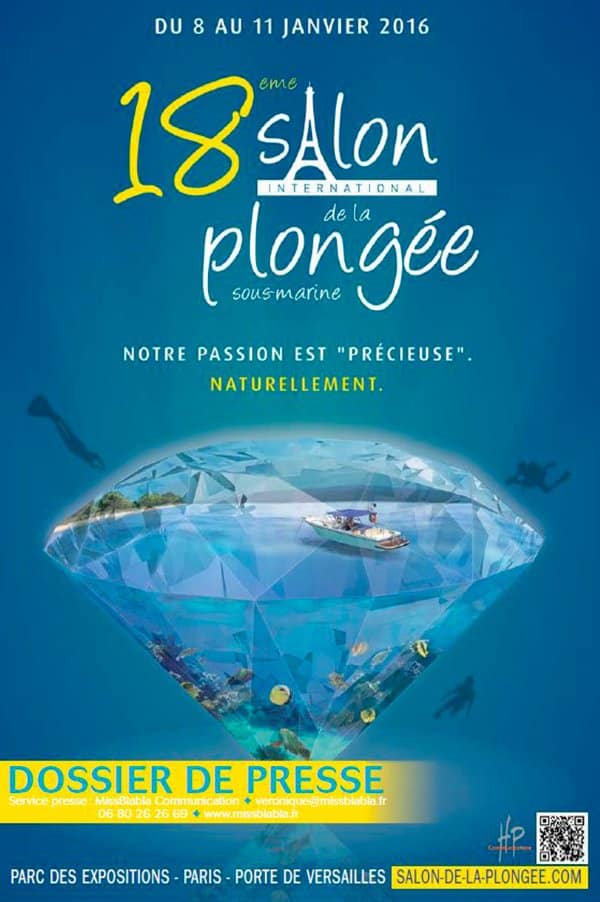 The Diving Show 2016 will open its doors this Friday, 8 January 2016, and will continue until 11 January at Paris's leading convention centre, the Parc des Expositions, located at the Porte de Versailles. This year, Hall 4 will play host to nearly 400 exhibitors, covering an area of over 13,000 square metres. Reunion Island will once again be in attendance, so come and discover the island's wealth of marine treasures on Stand A11.
With the natural protection afforded by a coral reef, the Reunion Lagoon is the ideal setting for underwater diving enthusiasts. The show is an opportunity to find out more about the exceptional wealth of biodiversity around Reunion Island, with its 150 species of coral and 500 species of fish making the coral ecosystem one of the richest in the world!
Extending throughout the length of the island's west coast, from Saint-Gilles to Saint-Pierre, the lagoon is edged by 25 kilometres of white and black sandy beaches. On Stand A11, you'll also be able to find out more about the plethora of water sports and activities that La Réunion offers: snorkelling, kayaking (including transparent boats), big game fishing, sailing, kitesurfing, and jet skiing to name but a few.
This year, the big news from Reunion Island is that the waters off Boucan Canot Beach are once again open for business! Bathing, surfing, bodyboarding and all kinds of other water sports activities have been back on the agenda since 11 December, thanks to the installation of anti-shark netting to ensure the area's safety.
At Stand A11, there will be a number of diving professionals from La Réunion who will support the Tourist Authority and discuss their personal experiences : Bleu Marine Réunion, B'Leu Océan, the Reunion Committee for Underwater Sport and Study, Corail Plongée and O'Sea Bleu. It's also worth noting that, on Reunion, just as in Metropolitan France, most clubs are affiliated with the French Federation for Underwater Sport and Study (FFESSM). Supervision by state-accredited instructors is also provided to ensure maximum safety.
Reunion Island will also host a press conference at Stand A11 as soon as the show opens at 11 a.m. on Friday 8 January. The President of the Reunion Committee for Underwater Sport and Study, Jean-Marc Charel, will speak at a second press conference entitled "Reunion, an Exceptional Destination for Ecotourism," which will take place between 2 p.m. and 3 p.m.

Don't miss the competition organised in partnership with the regional airline, Air Austral, and Reunion's diving club : you might be the lucky winner in the raffle, which will take place on Monday 11 January 2016 at 2 p.m. on Stand A11.