GILLES BOULEAU IN THE SEYCHELLES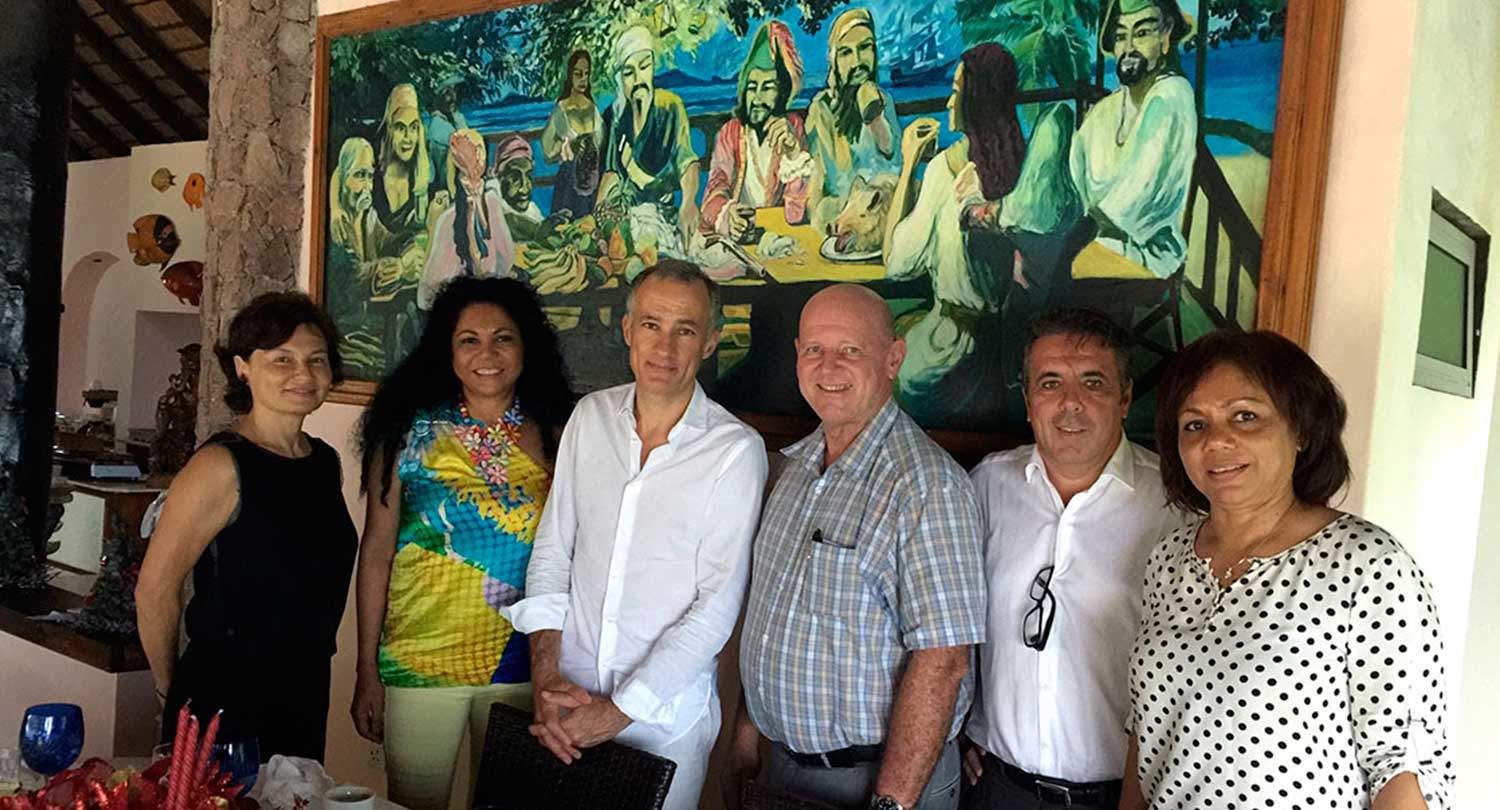 Gilles Bouleau and guests
The French television anchor-man Gilles Bouleau of the leading television channel TF1 was in Seychelles. He was treated on Monday the 28th December to a Creole lunch at the Sunset Hotel at Glacis. Mr and Mrs Bouleau are joined by Minister Alain St.Ange. He is responsible for Tourism and Culture. Anne Lafortune, the PS for Tourism and Norbert Couvreur from Beachcomber Sainte Anne Resort and Spa were also present. Mary Geers, the Owner of the hotel had specially prepared a Creole lunch. The French television star was spending this festive season with his family. He was staying at the Sainte Anne Resort and Spa.
"Today we have an idyllic small home-grown tourism establishment hosting our television anchor-man. He liked the spectacular setting of the Sunset Beach Hotel where nature blends in with the island's elegance. We needed to get our guests to taste our creole dishes as they enjoy the sights and sounds of Seychelles. France remains the main source market for the tourism industry . As we welcome a key and respected television news person we are building positive PR opportunities. Just the word of mouth will pay dividends" said Minister St.Ange.
Mr Bouleau said that he had enjoyed his holidays in the Seychelles. With his family, he discovered the island of Mahe, but also travelled to Praslin and La Digue. He intends to come back and said that Seychelles remained a special holiday destination for them. He has invited Minister St.Ange to make contact with him at TF1 when he is next in Paris.
A first reception one week before
The week before, a reception was also held to welcome this well-known journalist. The cocktail reception held at the Beachcomber resort was attended by many persons:
Vincent Meriton the Designated Minister
The Minister for Tourism and Culture Alain St.Ange
French ambassador to Seychelles Lionel Majesté-Larrouy
The principal secretary for tourism Anne Lafortune
The chair person and chief executive of the Seychelles Media Commission Ibrahim Afif and its secretary Larrey Chetty
Gerard Govinden from the Seychelles National Information Services Agency
Michael Payet from the Seychelles Broadcasting Corporation.
Source : Indian Ocean Times