Kilian Jornet (Spain), Dawa Sherpa (Nepal), Iker Karrera (Spain), Tsuyoshi Kaburaki (Japan), François d'Haene (France), Julien Chorier (France), Emelie Forsberg (Sweden), Nathalie Mauclair (France): every year, the Grand Raid welcomes the best of the sport's athletes as they make their way from south to north across Réunion, through the heart of the island, exploring its wild and well-preserved nature with UNESCO World Heritage status as they race each other to the finish. The race will set off at 10pm on Thursday 22 October 2015 from the Ravine Blanche in Saint Pierre. Who will follow in François d'Haene's footsteps, winner of the Grand Raid 2014?
The Grand Raid of Réunion, also known as the Diagonale des Fous (the Madman Diagonal because of the difficulty of the route and "madness" of the ultra-trail runners who challenge themselves in taking part) attracts international athletes from all over the world. The Grand Raid is a personal challenge with individual and collective dimensions; emotions are palpable, both for runners and spectators who are present throughout the race to cheer on these brave athletes. The event sees competitors testing their own limits as they compete against other athletes.
The race was first held in 1989. The difficulty of the course has developed over these 26 years, leading to international interest in this race which has been included as the final stage of the Ultra-Trail World Tour since 2014. This sporting event is part a global circuit of ten existing ultra-trails: from Hong-Kong to the island of Réunion, including Spain, New Zealand, Morocco, Australia, the United States, France and Japan. It's an opportunity for trail runners from all over the world to experience Réunion as a trail-running destination! As the final stage of this incredible world tour, Réunion will provide competitors with a race to rival the most difficult in the world.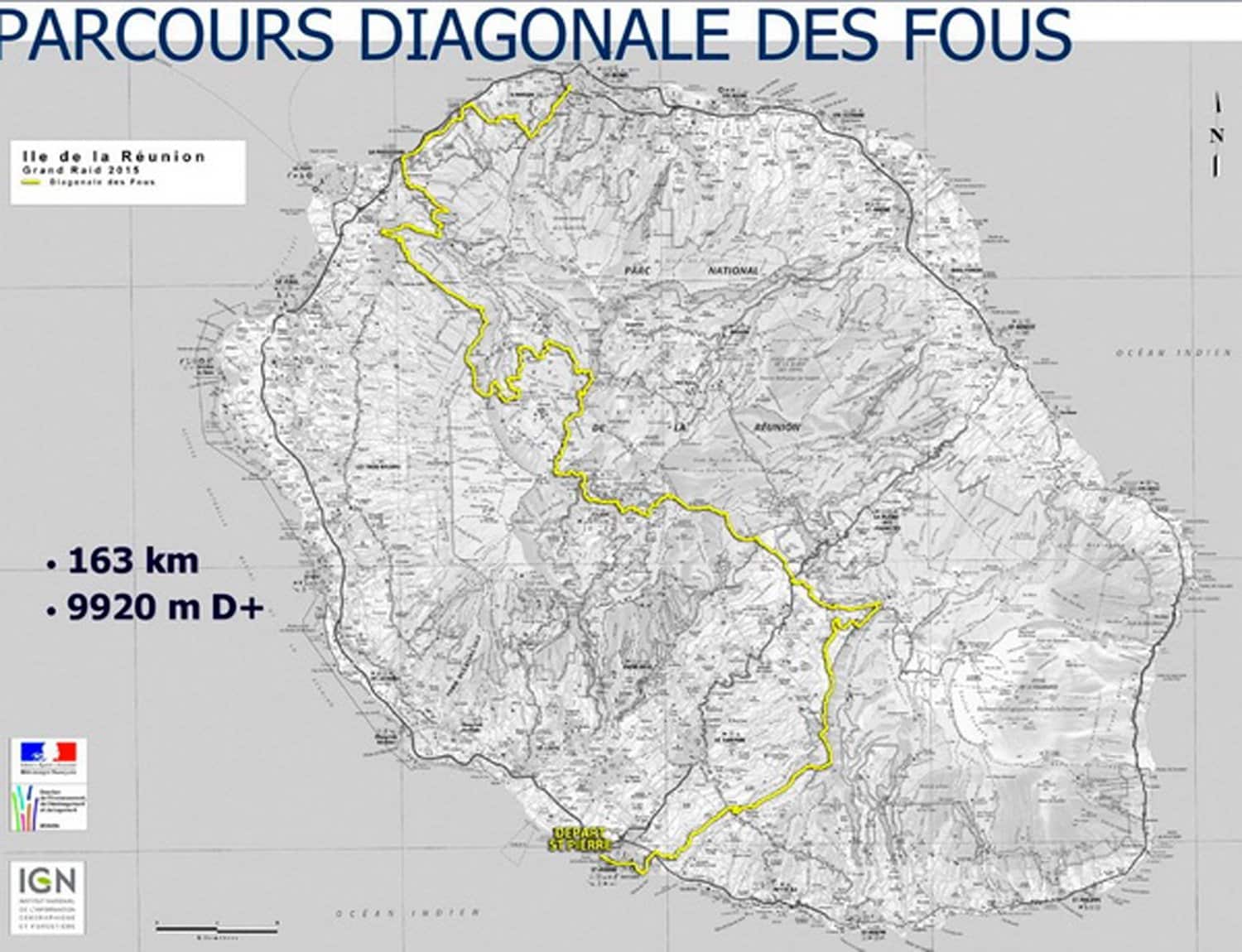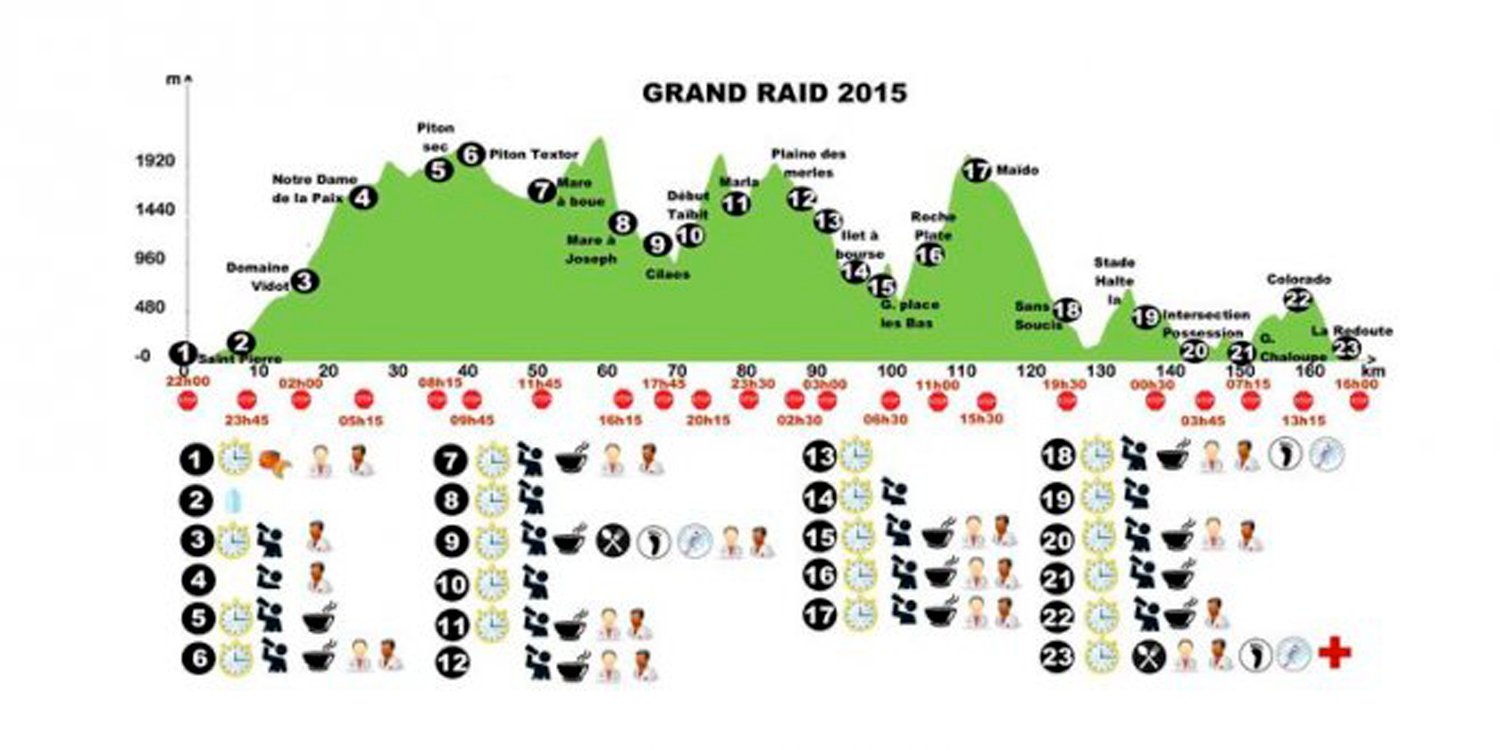 DIAGONALE DES FOUS

163 kilometres, 2,633 participants (2,403 men and 230 women)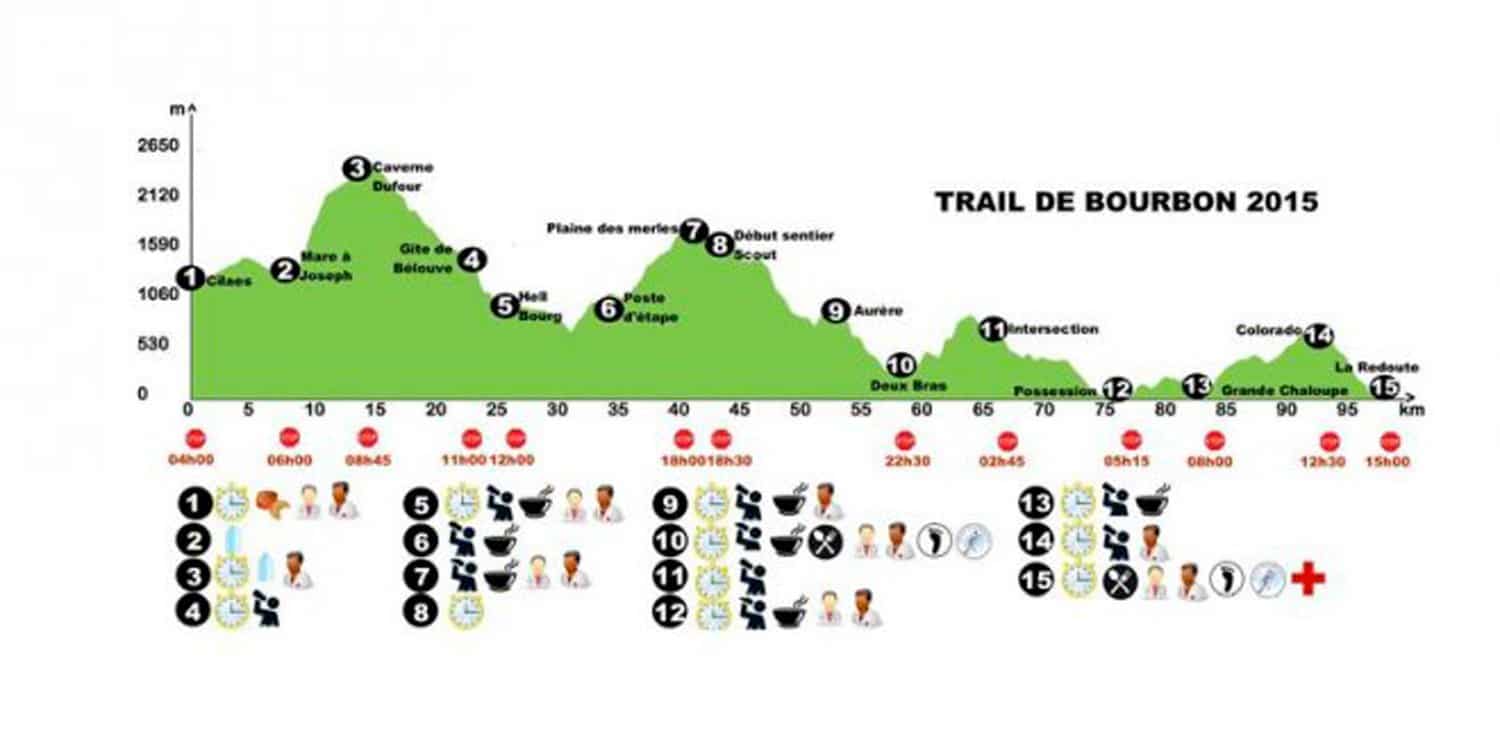 BOURBON TRAIL

93 kilometres, 1,576 participants (1,328 men and 248 women)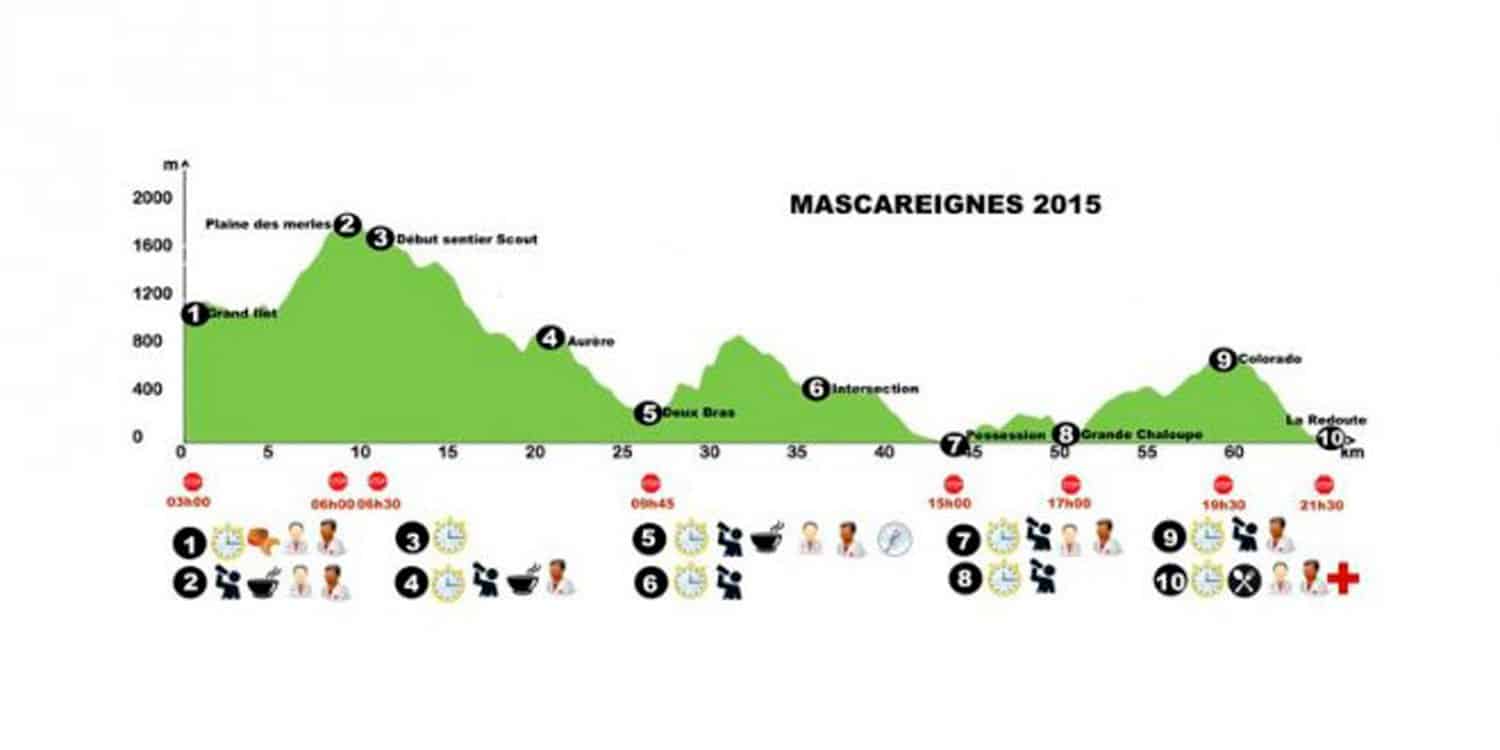 Mascareignes

64 kilometres, 1,806 participants (1,389 men and 417 women)
THE CHALLENGERS FOR THE DIAGONALE DES FOUS 2015

Men
Iker Karrera (Spain), Gediminas Grinius (Lithuania), Antoine Guillon (France), Jannick Sery (Réunion), Michel Lanne (France), Pau Bartolo (Spain), Erik Clavery (France), Michael Wardian (United States), Thomas Lorblanchet (France), Kenichi Yamamoto (Japan), Christophe Le Saux (France), Osé Kazufumi (Japan), Florent Bouguin (Réunion), Sangé Sherpa (Nepal), Jordi Gamito (Spain), Cyril Cointre (France), Lionel Trivel (France), Jeff Gosselin (Canada), Stefano Ruzza (Italy), David Pasquio (France), Thierry Chambry (Réunion), Freddy Thevenin (Réunion), Gilsey Félicité (Réunion)
Women
Nathalie Mauclair (France), Emilie Lecomte (France), Nuria Picas (Spain), Caroline Chaverot (France), Andrea Huser (Switzerland), Candice Burt (United States), Claire Nedelec (Réunion), Zoé Salt (Great Britain), Alexandra Clain (Réunion), Christine Benard (Réunion)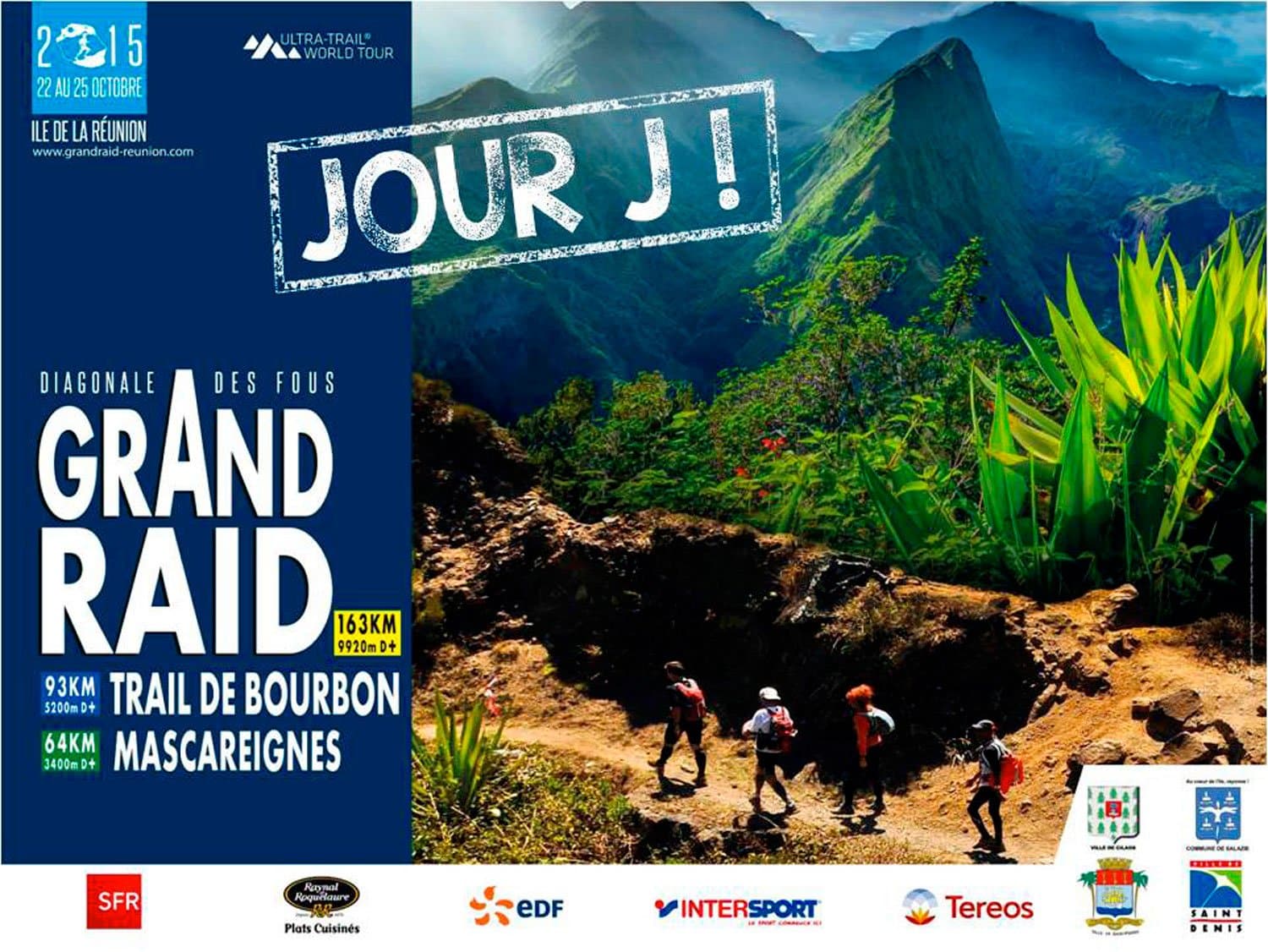 THE NATIONALITIES REPRESENTED AT THE DIAGONALE DES FOUS 2015
South Africa : 7
Algeria : 1
Germany : 8
England : 6
Australia : 4
Austria : 3
Brazil : 1
Canada : 13
China : 3
South Korea : 12
Scotland : 1
Spain : 11
United States of America : 8
France : 1,106
Gabon : 2
Guadeloupe : 5
Guatemala : 1
French Guiana : 1
Hong Kong : 2
Hungary : 1
Réunion : 1,272
Mauritius : 9
India : 3
Ireland : 1
Italy : 23
Japan : 24
Kenya : 1
Latvia : 3
Luxembourg : 3
Madagascar : 1
Martinique : 11
Mayotte : 12
Norway : 2
New Caledonia : 5
Poland : 3
Portugal : 3
Czech Republic : 1
Russia : 2
Singapore : 2
Sweden : 2
Switzerland : 31
Thailand : 1
Turkey : 1
Vietnam : 1
THE NATIONALITIES REPRESENTED AT THE BOURBON TRAIL 2015

2015
South Africa : 3
Germany : 2
Australia : 3
Belgium : 4
Canada : 3
South Korea : 1
France : 205
Guadeloupe : 2
Réunion : 1,302
Mauritius : 7
Italy : 1
Japan : 2
Mayotte : 22
New Caledonia : 1
Holland : 1
Poland : 1
Singapore : 3
Sweden : 2
Switzerland : 10
Thailand : 1
THE NATIONALITIES REPRESENTED AT MASCAREIGNES 2015

2015
South Africa : 1
Germany : 3
England : 1
Saudi Arabia : 1
Australia : 3
Austria : 1
Belgium : 3
Canada : 1
Côte d'Ivoire : 1
United Arab Emirates : 1
Spain : 2
France : 212
Georgia : 1
Hungary : 1
Réunion : 1,525
Mauritius : 14
Ireland : 1
Italy : 1
Martinique : 1
Mayotte : 25
Switzerland : 7