After the re-opening of the direct route from the Seychelles to Réunion, the archipelago of the Seychelles is now connected to Madagascar with direct flights to the large island twice a week, on Wednesdays and Saturdays. A historic step for these two members of the Vanilla Islands.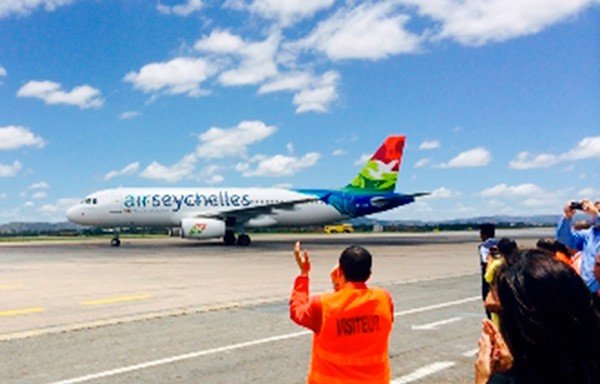 Yesterday morning at 9.45am, the new Air Seychelles Airbus A320 known as Amirantes left the Seychelles, making its way to Ivato airport in Antananarivo. Two and a half hours later, the 136 passengers on this inaugural flight disembarked on Malagasy soil where they enjoyed a warm welcome.
For the authorities in the Seychelles and Madagascar, this direct route is a major step which helps to avoid interminable trips between two islands which, after all, are so close to one another. In addition, these direct flights will undoubtedly encourage overseas sales of combined Seychelles-Madagascar trips. The Vanilla Islands are now more connected than ever.
For the local airline Air Seychelles, which aims to become the best airline in the Indian Ocean, this new route is part of a series of new routes which includes flights to Dar Es Salam and Mumbai. For the Minister of Transport and Meteorology, Ulrich Andriatiana, this is a great example of co-operation between the Seychelles and Madagascar and a historic opportunity for Madagascar's development, as a country which soon aims to reach one million tourists (interviews by Seychelles Nation). In addition to passenger transport, the launch of this route also provides the private sector with economic opportunities to export products from Madagascar to the Seychelles.
The Ministry for Tourism and Culture of the Seychelles and its National Tourism Board are delighted with this development in terms of aviation which will undoubtedly enhance and strengthen the existing links between the Seychelles and Madagascar.