Megavalanche in Reunion Island.
The 20th edition down the Maido.
Want to challenge yourself ?
The downhill mountain bike event will take place on the western coast the 28th and 29th of November 2015.
Follow in the footsteps of the two-time Olympic champion Julien Absalon by biking down the Maïdo trail. Helmets on, bikes ready, get set, go for the prestigious downhill biking trail of champions.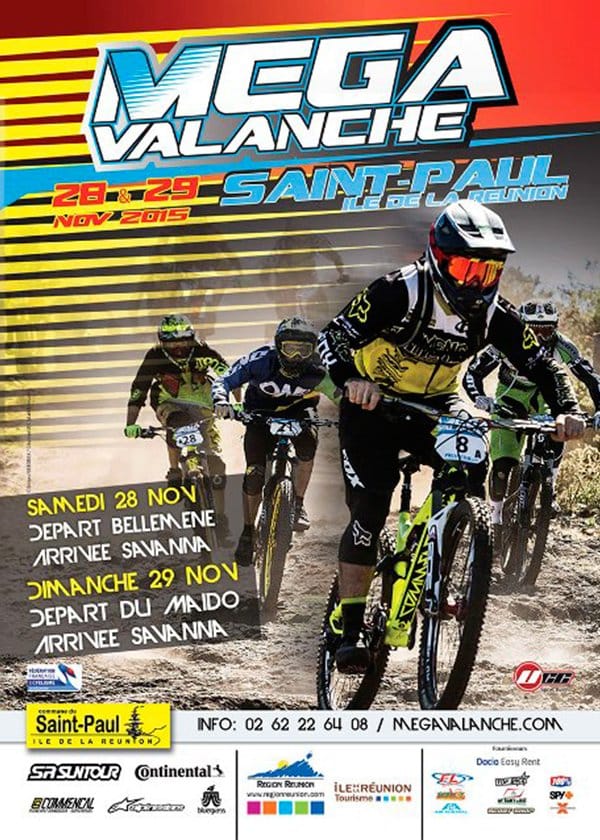 The bike race will see a wave of mountain bikers gushing down the Maïdo trail to reach the western coast. One of the main features is to brings together bikers from all walks of life under the banner of one single race. There are pure performance champions. Then there are amateurs that come to compete with friends. Finally there are eager beginners who want to have a taste of competing with professional bikers !
Come back of the mass start
This year, the race is re-launching its mass-start concept (wave start), especially for its qualifying rounds. These mass departs are impressive to watch. On the race day many groups of 50 bikers start from Bellemène at an altitude of 560m. They will reach the finish line at the Temple du Moulin à Eau (Watermill Temple) on the Tour des Roches road. The rules are simple. The fastest clinch the precious spots at the front of the starting line for the main event on Sunday. Then, the first 25 of each wave qualify for the Megavalanche. Finally the next 25 qualify for the Mega Challenger and the rest will go in for the Mega Amateurs.
Hundreds will take part in the 2015 edition along side champion Rémy Absalon. He will be vying for a double victory after his win in the Alped'Huez stage. This longest downhill race in the world took place in July. Riders will also have the chance to compete against:
Thomas Lapeyrie (runner-up of the Alpe d'Huez stage)
Enduro expert Alexandre Cure
The renowned Cédric Garcia. Not to be forgotten are :
Local elite Jordan Payet, member of the French DH Junior Team and champion of the 2014 French DH Cadet
Alexandre Sicard, champion of the 2014 Réunion DH Master and the 2014 Megavalanche
Pascal Yen Pon, multiple champion of the Réunion DH and XC.
This year, the MegaMarmaille event will begin, for the first time ever, on Saturday afternoon. This marathon style downhill biking competition caters specially to young bikers. It will represent approximately a quarter of the Megavalanche.
Young or old, big or small, mountain biking in Reunion only has one prime focus : keeping your balance on a two-wheeler !