A Chinese television team is currently on Reunion Island for ten days of filming. Two episodes will be made for the weekly programme World Film Report to be broadcast on the China Movie Channel (CCTV6).
World Film Report was originally a television programme broadcast on CCCTV in China. World Film Report, specialised in the world of cinematography, has become the most influential, professional quality programme for billions of Chinese viewers.
The Chinese programme World Film Report has been travelling to the far ends of the earth for fifteen years now to bring to the small screen the diversity of international cinema but also the variety of nature and culture from the countries visited. After New Zealand, England and France, more than eighty countries have already been the subject of this documentary – it is now the turn of Reunion Island to unveil is history, culture, landscapes, population, hospitality and its tourist attractions through two twenty-minute episodes. World Film Report, with its audience of more than twenty million Chinese viewers, is a wonderful showcase for Reunion Island as a destination and the development of its reputation on the Chinese market.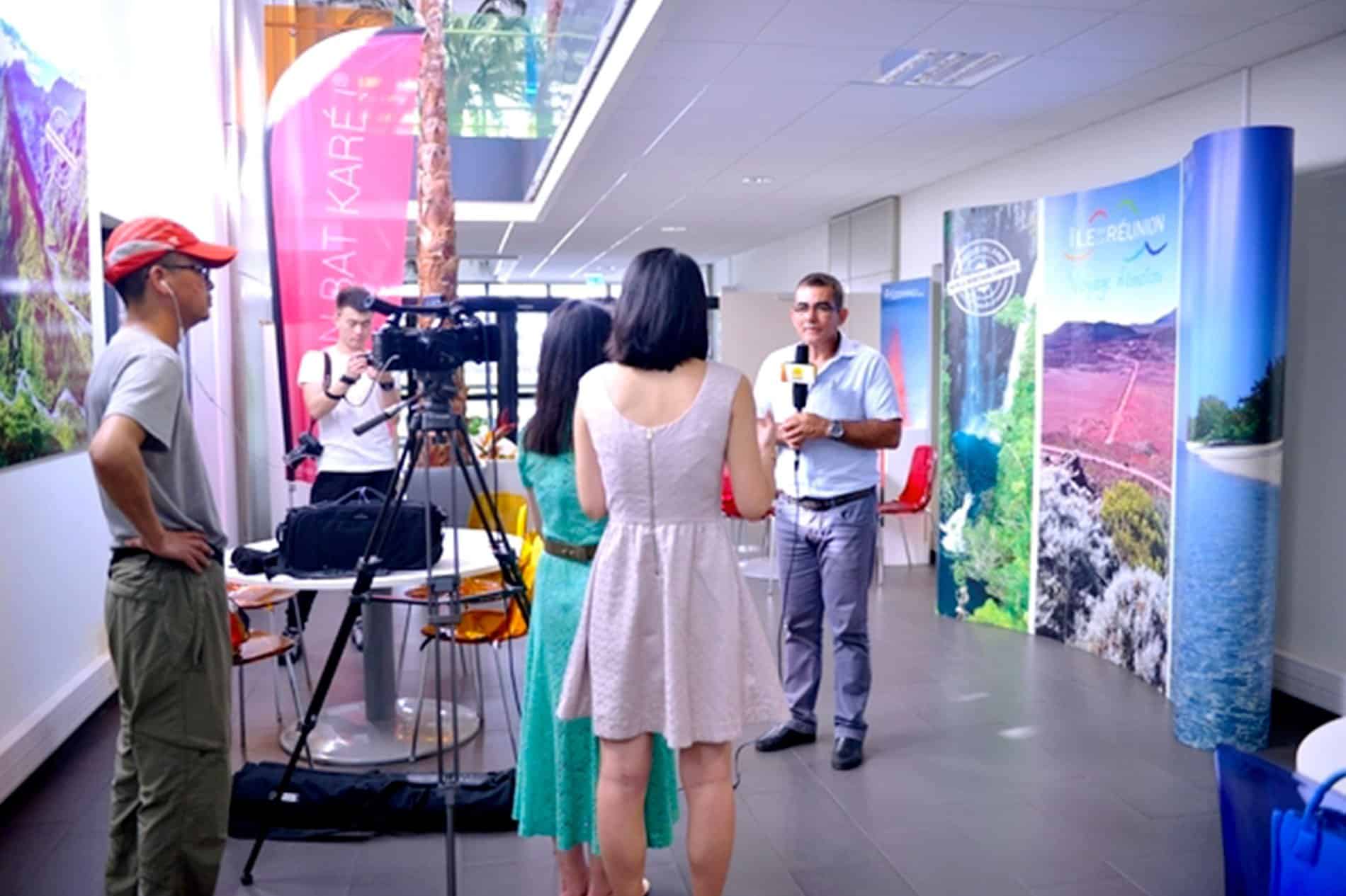 As soon as she arrived on the island, the Chinese presenter, LishaLi, accompanied by the CCTV6 film crew, got to meet and interview the President of Reunion Island Tourism (IRT), Patrick Serveaux. Next, the group will set off to meet the people of Reunion Island and to discover the natural and cultural heritage of the island, including the many planned activities: Moraingy demonstration on the beach, paragliding over the bay of Saint-Leu, visits to the Stella Matutina and Kelonia museums, rafting in the Roches riverbed, discovery of the Salazie amphitheatre and Hell-Bourg village, walking in the Mafate amphitheatre, a visit to the capital, Saint-Denis and its temples, pagodas, mosques, churches and Creole buildings, a trip through the colourful aisles of the Saint-Pierre street market, visits to the Domaine de Café Grillé and the Saga du Rhum, a walk to Piton de la Fournaise and a visit to the Cité du Volcan, a climb to the Maison du Laurina and tasting Bourbon pointu coffee, a visit to Labyrinthe En Champ Thé, exploration of the lava tunnels, a visit to the vanilla plantation… During the trip, the group will also meet with the Reunion Island Film Agency as well as the Chinese Consulate.
The broadcast on Chinese television of the two episodes of World Film Report dedicated to Reunion Island will have an important media impact on the promotion of the destination for Chinese tourists. This documentary could also inspire Chinese production companies and give birth to future projects for filming on Reunion Island.