With exceptional sites for taking off and optimal meteorological conditions all year round, Réunion is a favourite with fans of hang gliding and paragliding from all over the world. Paragliding is a great tourist attraction for Réunion ; today marks the beginning of the 24th edition of La Route des Tamarins Paragliding World Cup Series 2014. A press conference was held on Monday 13 October 2014 in Saint Leu to mark the occasion.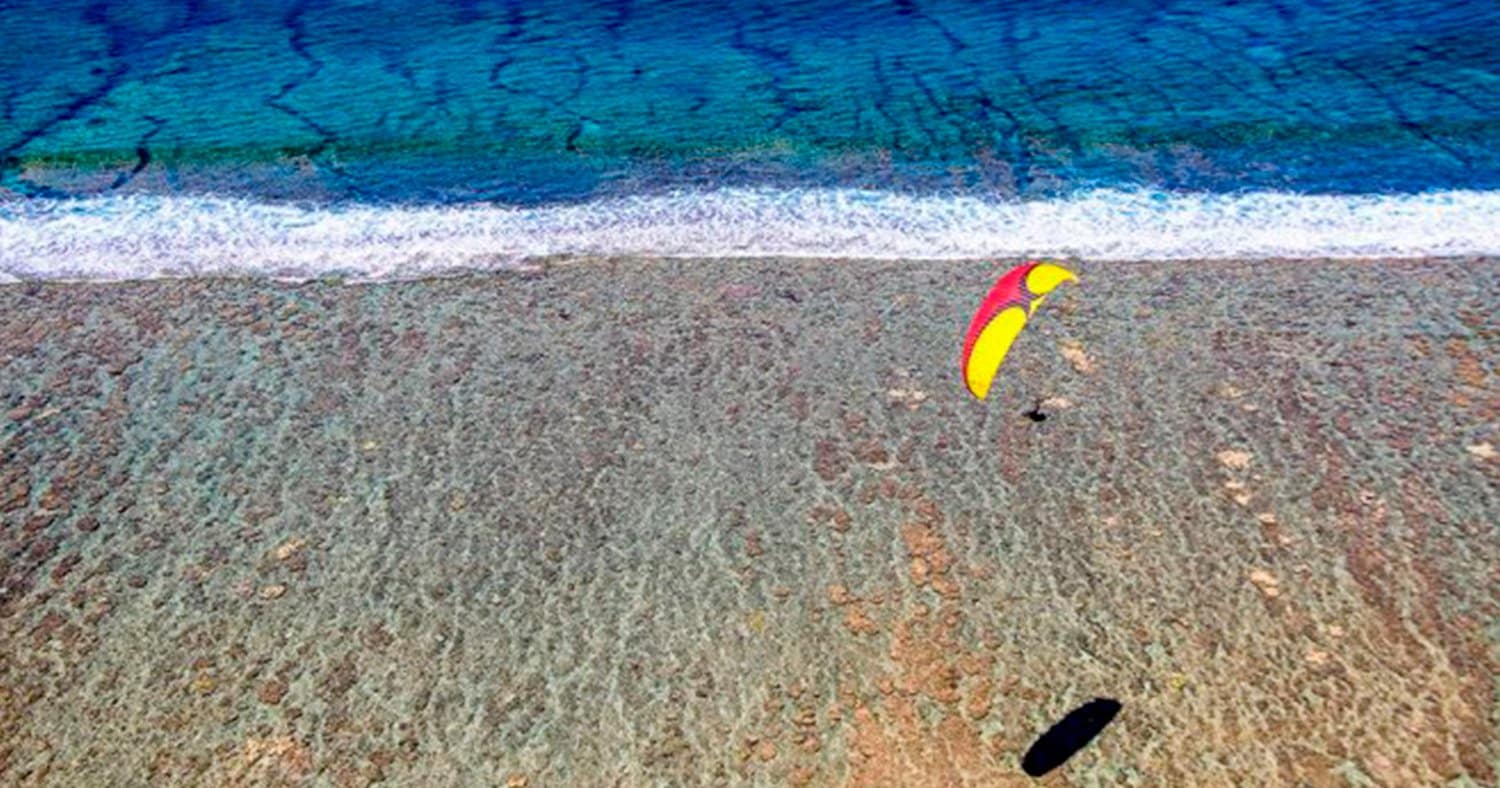 Saint Leu, a hotspot for hang gliding and paragliding in Réunion, is to host the 24th edition of the World Cup Series 2014 from 13 to 18 October 2014. Organised by the Hang Gliding and Paragliding League of Réunion, this annual international competition is a great way to promote tourism on the island, especially among the competition's participants who enjoy Réunion's optimal flying conditions and landscapes as they gaze upon the island mid-flight.
During the press conference on Monday 13 October in the Parc du 20 Décembre in Saint Leu, the league's president Dominique Durand stressed the importance of democratising hang gliding and paragliding. Beyond the competition itself, he believes that the aim of this event is to "involve the people of Réunion in this elitist activity". To do this, several prize draws will be held during the Paragliding World Cup with two-seater paragliding flights for the winners. This year, the poster's colourful naive art design was created by Emmanuelle Dupont, a painter and artist from Saint Leu.
The championship will see competitors take part in a total of five rounds, during which they will have to stay in the air over distances ranging from fifty to one hundred kilometres: quite a feat without a motor! The pilots will have to use hot air currents — veritable invisible lifts — to move around in the air. Paragliders will take off from Colimaçons 800 (Saint Leu) or Bellemène (Saint Paul), depending on the weather forecast. A multi-coloured sky awaits the spectators and those driving along the road of La Route des Tamarins — they're used to this well organised choreography of colourful parachutes which fly over the road before reaching the island's coast, all year round. The pilots taking part in competition will aim to collect various aerial markers, proof of having followed the official course, before landing on the white sandy beach of Kelonia, which owes its name to the nearby sea turtle observatory. Competitors will be judged on: competitors' speed in completing the course, the longest distance covered and the best time.
There's an impressive line-up this year, with more than sixty international pilots from France, China, South Africa, Spain, Italy, Bulgaria, Switzerland, Germany, Slovenia, Poland and Portugal ready to fly over Réunion. For the first time, the competition will welcome a delegation of sixteen Chinese pilots. Agnès Lavaud of Réunion Island Tourism said that "Réunion is now an Authorised Tourist Destination for Chinese travellers […] China is a developing market for Réunion's tourism economy." Consequently, Réunion Island Tourism has invited a Chinese journalist to publicise the event in China. Sébastien Coupy, winner of the 2013 stage and Réunion ambassador, will also take part in the competition alongside twenty pilots from Réunion.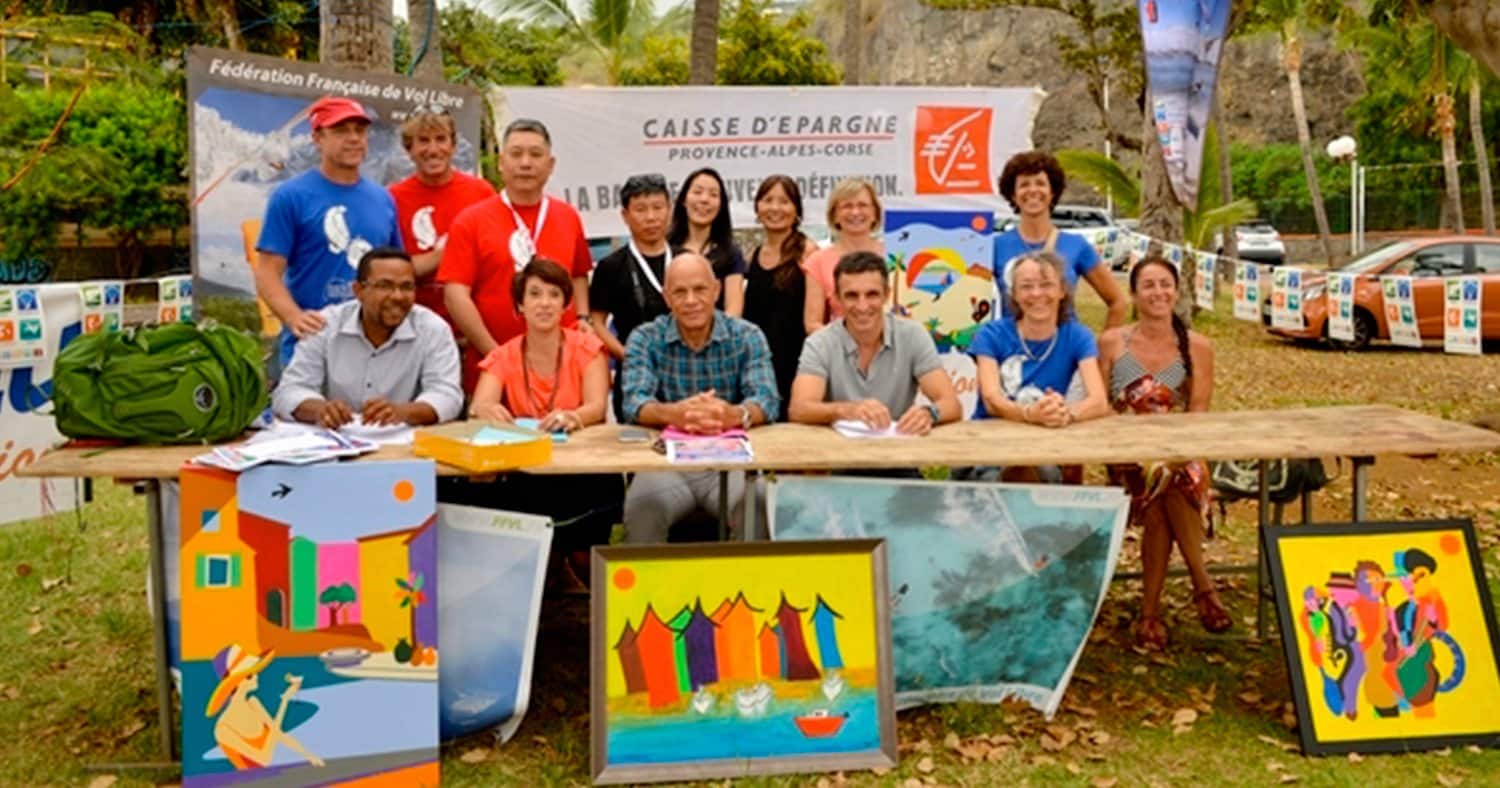 Organisers, partners and a few pilots of La Route des Tamarins Paragliding World Cup Series 2014
Throughout the week, several events will be held in the Parc du 20 Décembre in Saint Leu : meetings, discussions, concerts, demonstrations and more. The perfect opportunity to learn more about paragliding while keeping two feet on the ground!
THE PROGRAMME