Diwali
Réunion is known for its multiculturalism, its ethnic mix and its joie de vivre. In October, all three elements come to life with Diwali, the festival of light, which will be held from 26 to 30 October in Saint André with the theme: peace and inner light.

It is the most anticipated, colourful and festive event of the eastern region of Réunion. Don't miss the chance to experience genuine Indian culture with a journey through time, an explosion of flavours in the town's restaurants, the opportunity to meet Indian artists and to learn as you join in with different workshops based on traditional Indian customs.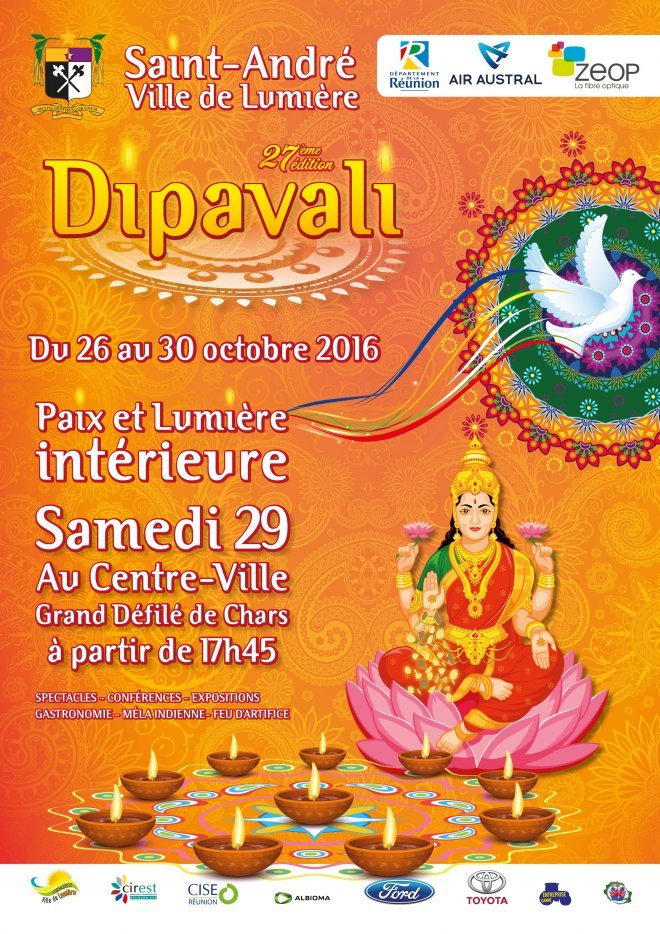 An Indian market called Mèla will be in the majestic Parc du Colosse every day. The festival will also include meetings with several artists from Chennai, shopping, yoga classes, parades and shows with acrobats, magicians, jugglers and dancers and plenty of other entertainment every afternoon. At Saint André's media library: conferences, exhibitions and workshops will be held just for you.
As is the case every year, the event's finale will take place on Saturday 29 October at 5.45pm in the centre of Saint André. The city centre will be closed to traffic and the streets will be pedestrianised for the occasion. 6 floats, built over two months by Indian artists in total secrecy, will be unveiled and will join the parade down the town's main streets towards the Sarda Garriga stadium. These floats will be accompanied by more than a thousand children and adults, dressed in beautiful costumes to brighten up the parade, filled with dancing, flowers and light. The show will continue inside the Sarda Garriga stadium with 40 minutes of Indian dances. The evening will finish with a fantastic firework display.
On Sunday 30 October, don't miss Holi, the traditional battle of colours for all ages in the Parc du Colosse at 11am for children and from 2pm for adults; the day will also include plenty of other original events.
Happy Diwali to all!